BioJeL, the Biological Resources Centre of the Jérôme Lejeune Institute
Specialised in genetic mental disabilities
BioJeL, the Biological Resource Centre of the Jérôme Lejeune Institute, was created in 2008. Our biobank is specialised in analysing and distributing biological resources (DNA, plasmas, blood and skin cells, etc.) of patients with genetic mental disabilities. Most of our samples are collected in the Institut Jérôme Lejeune.
BioJeL has 4 collections of samples (DNA, fibroblasts, blood cells, plasma) which are associated with the clinical data of the consultation.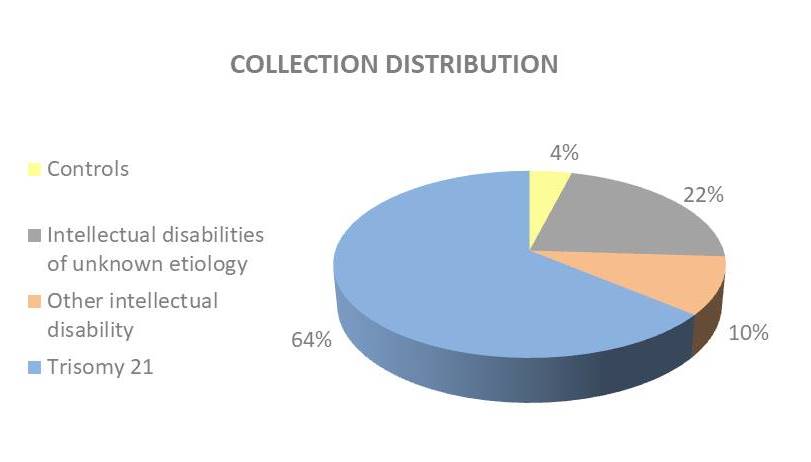 The close collaboration between the clinical consultation of the Jérôme Lejeune Institute and BioJeL is a crucial advantage for the implementation of a sampling policy in line with the demands of the scientific community. Moreover, the two departments are located in the same building, which allows rapid handling of samples and optimized pre-analytical treatment thanks to the use of validated and standardized methods.
BioJeL offers a technical platform for:
Answering to specific needs related to a clinical research protocol,
Collecting samples from patients who are usually treated at the Jérôme Lejeune Institute consultation but who do not necessarily meet the BioJeL sampling policy criteria.
BioJeL develops external, national and international collaborations.
Biojel participates in clinical research projects conducted by the Institut Jérôme Lejeune such as Trial 21 (a study on Alzheimer's disease and Down Syndrome) and GO-DS21 (a study on the impact of environmental and genetic factors on the development of people with Down Syndrome).
The aim of this research and these collaborations is to progress in the knowledge of intellectual deficiencies of genetic origin, for a better care of the patients.
The use of human biological resources requires legal and regulatory action on the part of each party involved. The CRB – BioJeL meets these requirements for its activities of preparation, conservation and dissemination for scientific purposes of elements of the human body. These activities are declared and authorized by the Ministry of Higher Education, Research and Innovation:
Declaration: DC-2009-1043
Authorization: AC-2020-4195
Export authorization: IE-2020-1149
It should be noted that each of the parties involved must meet the legal and regulatory requirements associated with all activities related to biological resources of human origin.
Our biobank specialized in intellectual deficiencies of genetic origin offers its collections of biological resources to the scientific community. As an essential tool for research on genetic mental disabilities, the CRB-Biojel system develops external, national and international collaborations and supports the Jérôme Lejeune Institute in its clinical research projects, and aims at expertise for a better patients care.